---
Plot Gyaan
---

---
Just relax! Your hesitations are taken care by Shubhyog!
Clear title Residential NA Plots
Plots at Shubhyog are clear title collector sanctioned residential NA plots. There are four major types of NA plots - Godown NA, Farmhouse NA, Collector NA and Residential NA. Only residential NA plots are eligible for loan and you also get fast appreciation for these plots. Before buying any plot it is essential to confirm that plot is a residential NA plot.
Total security
Your doubts about security of your plot will get totally cleared once you visit the site. The entire project area is secured by compound wall. Your plot is secured by prefab wall and not just by barbed wire. Grand entrance gate of the project stands tall giving you the feeling of exclusivity coupled with security.
Ease of liquidity
It is true that plot does not give you fast liquidity. But Shubhyog is equipped with a number of features that makes it attractive for everyone. The serene surrounding, features like game zone, hobby zone, sit out area – everything adds life to Shubhyog. We are also encouraging all our buyers to plant trees on their plots. With this uniqueness, Shubhyog will always be one of its kind projects in the vicinity attracting number of buyers.
Location
Shubhyog is situated in the midst of serene hills offering breathtaking view. Fresh air accompanies you throughout the day and the location offers you quiet environment to connect with yourself. Located at Asavali, just 4 kms. from Mumbai-Bangalore Highway, Shubhyog also enjoys the advantages of fast track industrial development in Shirwal region.
Legal issues
With us, you are always sure about transparent transactions and getting proper guidance all the time. With our professional expertise, we are committed to guide you and solve all your queries at any time.
Loan
Last but not the least, HDFC and ICICI Bank loan up to 70% is available on plots at Shubhyog.
Investment Insights
What do you expect from your investment?
Return on investment
Safety of investment
Easy liquidity
---
Why plot is the best midterm/long term investment?
Land cannot be created.
Statistics shows that population of growing cities doubles every 15 years. With this increase, demand for plots (residential, industrial or agriculture) rises. Eventually, city limits start expanding horizontally and distance of nearby areas from that city keeps on reducing, which results in increase in demand of plots ultimately resulting in increased prices.
Investment in fixed deposit may get depleted by inflation. Investments in jewelry, shares and mutual funds are subject to market risks.
There is no scope for land value to get depreciated. It just has to rise, rise and rise only!
---
Why do you hesitate to invest in the plot?
Legal issues
Fear of encroachment
No fast liquidity
Myth that banks don't give loan for buying a plot
---
Things to check before investing in plot
Plot must be NA
7/12 must be on your name
Project infrastructure (light, road, fencing, water etc.)
Present and future maintenance assistance from the developer
Growth prospect of the region
Availability of bank loan
Plot security
---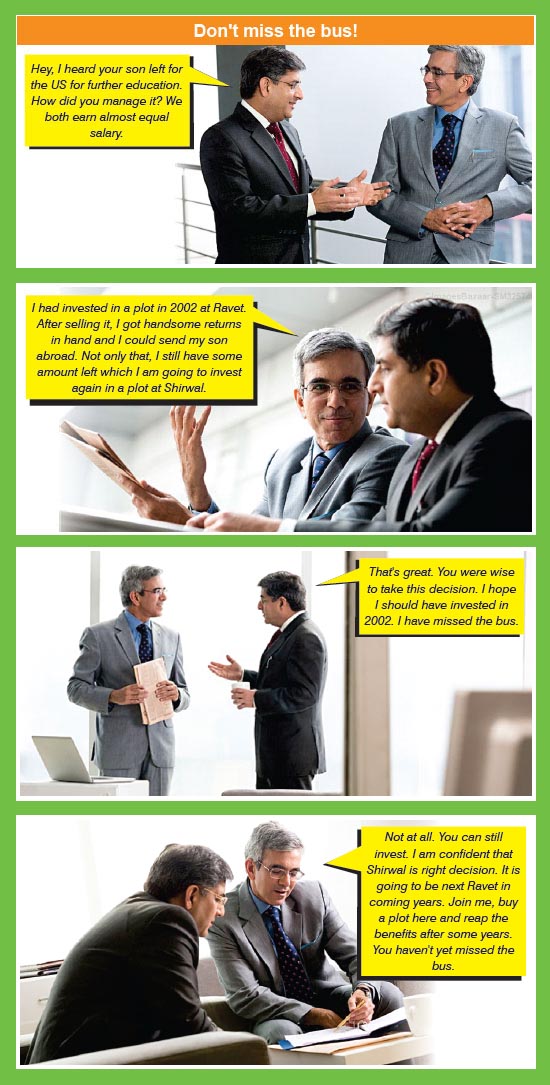 Land is a tangible asset unlike stocks, shares or fixed deposits. Your investment in gold too stays in the locker but it cannot give you the pleasure of companionship like your plot. At Shubhyog, you can enjoy your investment in various ways, till you decide to construct.
Check out how!
Plant fruit trees in the side margins
Create a small kitchen garden on your plot and enjoy the seasonal vegetables
Have your own lawn area surrounded by flower garden
You can even build your own small shelter at reasonable cost
We have a full time horticulturist to guide and assist you in selection and plantation of suitable plants. We have also developed a sample kitchen garden and nursery with variety of fruit and flower plants to select from. With our assistance and your enthusiasm, you can convert your plot into a weekend destination and enjoy what you have invested in!
While you continue enjoying your investment, the transformation of your plot will also increase its value giving you one more reason to smile. More the enjoyment, more the appreciation. Possible only at Shubhyog!