Remonesa, T-6 Realty and A.G.A Groupp are known for the selection of strategic location and turning your investment into a valuable asset. Together, we are launching Swarnabhoomi, a luxurious NA Residential Plots with 1 FSI project that has guaranteed returns in future. Swarnabhoomi, an imperial project offers exclusive lifestyle enhancing benefits and exceptional connectivity making it a sensible investment for tomorrow. Swarnabhoomi is a limited and exotic NA Residential Plots project having a spread of 3 acres. Naturally serene location and ample of amenities make Swarnabhoomi a right investment opportunity.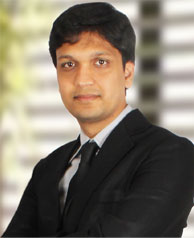 Mr. Sagar Agarwal has completed his degree in Civil Engineering and MBA. He has given a new outlook to this two-decade old construction business. Dynamic and open for new ideas, passion for quality and innovation has helped him to inculcate good practices in the organization. His drive and dedication has helped Remonesa to create new landmarks and spread its wings wider.
Dear,
Remonesa, T-6 Realty and A.G.A Groupp a trusted name in the field of land development and real estate. Over the years our experience knowledge and strategic methodology in the field has gifted us with a vision to forecast the futuristic development of a location. Our selected locations offer exceptional connectivity, growth prospects and exquisite nature, indeed assuring attractive returns. What distinguish us from the rest, is the absolute concern towards customer satisfaction and their happiness. The foundation of our group is based on strong pillars of values and ethical practises at work. Transparency in our services and clear documentation is our cherished mantra for success during last 4 decades.
Swarnabhoomi, is one the prominent gem, we have in our collection, incomparable connectivity and serene features makes it one-of-its kind project. High-tech amenities and ample of leisure activities will spellbound your imagination. Redeem your liberty and rejoice with your friends and family. We would like to invite you for a totally different experience at our site. Come and explore the horizons of happiness and serenity...
Regards,